ATHLETIC PROGRAMS
GOLF | TENNIS | FOOTBALL | BASKETBALL | VOLLEYBALL | RUNNING | FITNESS
Don't wait to participate...
CLASSES WILL BE CANCELLED IF MINIMUM ENROLLMENTS ARE NOT MET
THREE (3) DAYS PRIOR TO THE START OF CLASS.
Register today!
PICKLEBALL AT THE CENTER
Included with your Membership
The Geneseo Park District offers Pickleball daily. Pickleball is available during open gym times at The Center and outside at the Athletic Field.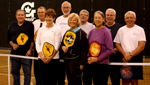 The group pictured above have started a drop in play at 8:30 – 11:00 am Tuesday and Thursday mornings.
FREE for everyone in MAY!
Players in this group drop in to play when their schedule allows it. Additional players are always welcome to drop in and try Pickleball.
All equipment is provided. No additional charge for members. Non members to the Community Center pay the daily entrance fee. Contact David Stover at 309-944-5509 with questions.
---
INSTRUCTIONAL GOLF
No classes offered at this time.
QUICKSTARTTM TENNIS
Tennis is the perfect sport for your kids and is now easier to play! Quickstart Tennis is an innovative teaching system endorsed by the USTA. It uses modified equipment (smaller racquets and lower compression tennis balls) and smaller court sizes. The fundamentals of the game will be taught and participants will quickly be rallying and playing, creating a positive fun atmosphere to continue learning this lifetime sport. Grades K - 5th
INSTRUCTIONAL TENNIS
Come out and learn the fundamentals of the game and have fun! Qualified Instructors will teach ground strokes, volleys, lobs, and serving, while emphasizing team building, sportsmanship and cooperation. Individual and all-court challenges and games will allow participants to apply skills learned. Grades 6th- 8th
INSTRUCTIONAL VOLLEYBALL
Players will learn the hitting techniques, footwork, positions, and rules of volleyball. Each session will focus on different facets of the game using drill and repetition followed by scrimmage games where coaches instruct during that time. Grades 3rd - 8th
YOUTH RUNNING
Do you like to run or are you looking for an activity to get you moving and keep you fit? The Geneseo Park District Running Program is designed to promote, encourage, and educate young athletes. Workouts will promote physical endurance, speed, strength and agility. The fundamentals of running (form and pacing) will also be taught in order to encourage safety in this lifetime activity. Grades 3rd - 6th
FITNESS ACCESS CLASS
Upon completion of four 1-hour classes, middle school age students will gain access to all fitness areas including the Cardio/Weight Room, Life Fitness Room*, Cycling Room* and Elevated Indoor Track. Participants will receive instruction on etiquette and how to safely and effectively use equipment in these areas. Taught by NESM certified personal trainer.*Available for use when classes are not in session.
YOUTH BASKETBALL
This program is focused on teaching the fundamentals of basketball in progression of levels. Players will learn the basic skills associated with stance, dribbling, passing, shooting, defending, screening and rebounding. This is done with a combination of individual and small group drill work.
Practices will be held weekly with games played on Saturdays. The first two Saturdays will be group practices.
BOYS & GIRLS YOUTH BASKETBALL K - 1st grades
#22100 8:30 - 9:30 am | SA
DATES: October 22 - December 3, 2016 (No games held November 26, 2016)
#32100 8:30 - 9:30 am | SA
DATES: January 21 - February 25, 2017
BOYS YOUTH BASKETBALL 2nd - 3rd grades
#22101 9:30 - 10:30 am | SA
DATES: October 22 - December 3, 2016 (No games held November 26, 2016)
GIRLS YOUTH BASKETBALL 2nd - 3rd Grades
#32101 9:30 - 10:30 am | SA
DATES: January 21 - February 25, 2017
GYB(YOUTH BASKETBALL LEAGUE Grades 4th - 6th)
BOYS
DATES: October - December | 2016 Fee: $45
NEW PALYER TRYOUTS: Tuesday October 4, 2016 | 6:00 pm
A team schedule will be published online the week of October 17, 2016. Games/practices start the week of October 24, 2016 geneseo
GIRLS
DATES: January - February, 2017 | Fee: $45
ALL PLAYER TRYOUTS: Thursday January 5, 2017 | 6:00 pm
A team schedule will be published online the week of January 10, 2017. Games/practices start the week of January 16, 2017.
YOUTH BASKETBALL DETAILS
Games/practices are 1 hour and will range between 5:30 & 8:30 pm, Monday - Thursdays.
Participants will practice/play a game 2-3 times per week. Each team will play at least 6 games.
Games are officiated, score is kept.
Every att empt is made to reschedule games on snow days, we cannot guarantee that all games will be rescheduled.
Each player is placed on a team and game jerseys will be provided.
No basketball held on November 11th, November 21st - 25th, January 16, 2017 and February 20, 2017
VOLUNTEER COACHES ARE NEEDED. Mark on your registration your interest in coaching.'
Boys & Girls GYB Registration Form
FLAG FOOTBALL
The strong tradition of Geneseo Football continues! Coaches will teach or fine tune new and experienced players' basic skills of stance, throwing and catching a football, running routes and playing defense through a variety of station drills and informal play. Note: Night games held October 9, 2016 & October 16, 2016.